Explaining the Barts and The London MBBS Curriculum
The MBBS course is delivered in modules. These are generally organised into blocks corresponding to one of six systems that reflect the conditions encountered in the different medical specialities. Each of the systems is visited a minimum of three times over the entire MBBS programme.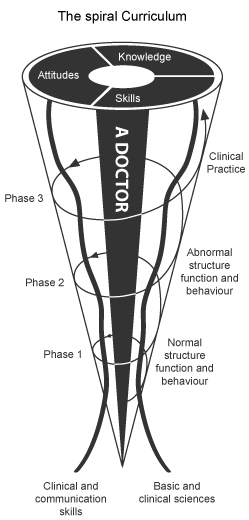 Barts and The London have adopted an integrated spiral curriculum for its MBBS programme. This means that each system is organised into a number of different subjects (eg anatomy, diagnostic procedures, codes of ethics) which run throughout the course at increasing levels of difficulty.
Although this curriculum map will mostly be used to identify learning outcomes relevant to these modules or an individual teaching session within a module, interested students or staff can use it to identify all the outcomes relevant to a particular subject or specialty. A search facility is also provided.